A Brief History
The Town of Bloomfield now owns an open space property on Mountain Avenue which includes an impressive stone house built in 1834 by Captain Oliver Filley for his son Jay Humphrey Filley and Jay's wife, Julia Newberry. In 1994, the Wintonbury Historical Society signed a 99 year lease with the Town of Bloomfield for the Filley House, allowing the Society to restore, use and display to the public the structure and adjacent lawn area. The surrounding property of 145 open acres has been set aside as a passive recreational area, and this provides a setting probably quite similar to that during the Filley ownership.
Captain Oliver Filley grew up in a house no longer standing on this property, the first portion of which was acquired by his father, Oliver Filley Senior, from James Roberts in 1793. According to the Simsbury land records, this first purchase of approximately 80 acres, a lot "with building thereon" lying partly in Simsbury and partly in Windsor, had formerly been owned by Reuben Case. Oliver Senior died in 1795 at the age of 38, and the farm was managed by his widow and his son, then 12 years of age.
The son Oliver, who acquired the title of Captain during the War of 1812, married Annis Humphrey on 8 May 1805. They lived in the homestead on the property (no longer standing) until they moved to Brown Street in 1817. Between 1805 and 1806 Capt. Filley established a tinware shop on the Mountain Avenue property. The precise location of this long-gone structure is not known. Through his business acumen and expertise as a craftsman, Capt. Filley's tin shop became known throughout the eastern United States, as his pedlars and relatives sold and distributed his wares through an extensive network. Several of Capt. Filley's relatives joined him in the tinware business, but his son Jay had no interest in the enterprise. Instead he became a successful farmer, one of the first in Connecticut to extensively grow and trade in tobacco, a crop which became very important to the economy of Bloomfield.Until Bloomfield was incorporated in 1835, most of the property lay in the town of Simsbury. It was in the Wintonbury Parish, town of Simsbury, that the stone house was built in 1834. Although the house was built for his son Jay, Capt. Filley retained ownership to his death in 1846. When his estate was settled in 1849, the property, consisting of the house and 140 acres of farmland, was sold to Watson Wilcox. In 1854 Amasa Holcomb purchased the property and in the same year sold it to Samuel Pinney.  The house is pictured below with the Pinney family circa 1885.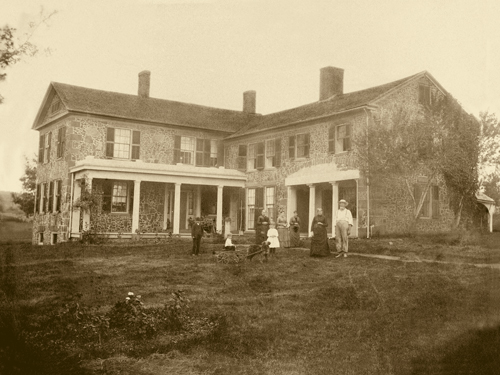 The Pinney family owned and occupied the house until 1913 when it was sold to the Missionaries of Our Lady of LaSalette, a Roman Catholic order.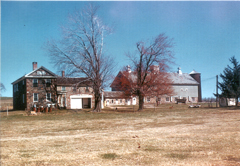 The house and dairy barn – circa 1957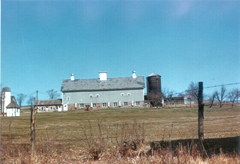 The dairy barn & creamery – circa 1957