Latimer Hill Cemetery
Elevation: 171 ft/ 52 m
Latitude (DEC): 41.8356545
Longitude (DEC): -72.7289832
– Plot Map – Veterans – Gravestones –
– Cemetery Association – LHC Sources –
(The pages above open in a new window from the old website)
Nestled within a strong metal fence and surrounded by old, stately trees and the bushy young sprouts that they produce, is an old burying ground. It sits on top of a hill and seems to be worlds apart from the rest of the community. It is a lovely, quiet place; with the smells of lily-of -the-valley and lilacs, the beauty of forsythia, dogwood, various pine and deciduous trees and the company of birds, bees, chipmunks and, occasionally, snakes
The rectangular yard is just about one acre in size and a lane of mown grass indicates a roadway down the middle of this lot. On either side of this grassy lane are rows of headstones and monuments… some standing erect, strong and vigilant; some bent over with age and still others crumbling and splitting apart, no longer able to stand the stress of time and the havoc that weather plays on old delicate gravestones.
This peaceful haven was once a lovely spot among the many miles of farm fields and growing crops. It once lay beyond the back yard of one early settler. It once was located in the town of Windsor as a parish called Wintonbury. It hasn't moved, of course, but it now sets just beyond the back yards of rows of houses on a street called Latimer Lane in the town of Bloomfield.
This burying ground is now called Latimer Hill Cemetery. It is older than the Town of Bloomfield which was incorporated 1835. It dates back to the Revolutionary War, a time when the area was just a tiny parish, called Wintonbury, belonging to the town of Windsor.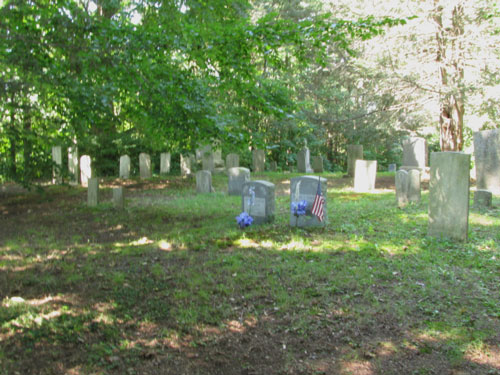 Once, a long muddy dirt driveway led from Wintonbury Avenue up a gradual hill, through farmland and woods to get to this burying ground.  Now, black-top streets crisscross the area and modern houses with well-kept yards of green lawns and lush shrubs abound.  A housing development, literally, was built around this old cemetery, leaving it atop its hill, but almost obscure, among the houses. Between the driveways of two of these houses, is a narrow, bumpy road lined with bushes and trees from neighboring lots.  The root systems of these trees have uprooted the once smooth black-top placed there by the housing developer, when he rerouted the right of way to the cemetery. This driveway leads 160 feet up to the top of the hill and into the Latimer Hill Cemetery.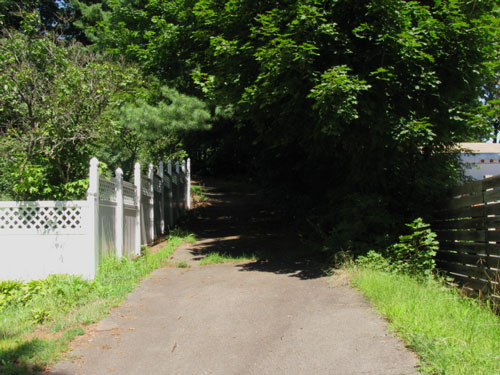 You might not even know that the cemetery exists… unless you're a Bloomfield "old-timer" history buff, or… for a few…, relative of one or more of the inhabitants there.
Although Latimer Hill Cemetery is a small, relatively unknown, burying ground, it has an interesting and historical story to tell.  Soldiers from the Revolutionary War, the War of 1812, the Civil War and World War I lie there. Infants and children were lovingly placed there as early as 1776 and as recently as 1967. Men and women who lived and died before us, live on to eternity there.  Whether we acknowledge it or not, their stories are important.  We are connected to our past.
Latimer Hill Cemetery is an important piece of the history of this area. The people who lie in it were among the original settlers and organizers of the town of Bloomfield. They were ones who lived and loved, struggled and survived, leaving their land to their descendants.  They had the wisdom to establish churches and schools, the knowledge to promote and obtain a working government, the pioneering spirit to constantly stride for better and the courage to demand and defend their freedoms.
We'll never uncover all the history that surrounds the people lying in this cemetery, nor will we know, exactly, what feelings and actions prompted the burying ground to become Latimer Hill Cemetery.  There are mysteries and legends, memories and scant records, old stones and monuments to explore, enjoy and gain a little insight into the past.
Each stone and monument in the cemetery has been photographed and the inscriptions recorded as best as can be read. The minutes and records of the Latimer Hill Cemetery Association have been read, ancient histories of Windsor and Wethersfield have been researched, genealogies and old maps from Windsor Historical Society have been obtained, land records kept in the Windsor Town Hall have been searched, and Bloomfield histories have been read to obtain information for this account.
Knowing much information about the lives of the people have been missed, we are still impressed by the hardships they endured and overcame, the courage and determination they possessed, the patriotic fervor of the times. And the constant pushing forward toward new frontiers. We appreciate our founding fathers so much more by learning just a bit about their personal history.
This cemetery, though now considered dead, with no more burying lots available, has so much living buried within its fence.
from: Not Lost – Gone Before
A History of Latimer Hill Cemetery
by Lucy Woodford Wirsul