Old Wintonbury Cemetery, located on Tunxis Avenue, just beyond the Congregational Church is one of Bloomfield's historic cemeteries. The Latimer Hill Cemetery, off Latimer Lane, is another. These burial grounds have interesting and historic tales to tell. They date back to the Revolutionary War and many of the old Bloomfield families are buried there. If you are researching families in either of these cemeteries you can contact the Society.  READ MORE>>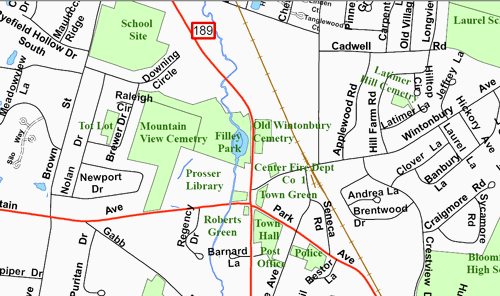 Other Cemeteries located in Bloomfield:
Mount Saint Benedict Cemetery
Mountain View Cemetery (formerly West Hill Cemetery)
This cemetery is located on what was once called Whirlwind Hill. The first Methodist Church was built here in the 1830s. It was Oliver Filley's son who donated the land for the church.  By 1853, the Methodists had become dissatisfied with the location and the building was moved to where the town hall is now. The property on Whirlwind Hill was purchased in installments in 1894 and became West Hill Cemetery until 1904, when it was renamed Mountain View.
Old Saint Andrews Cemetery
The historic Old St. Andrew's Cemetery is one of the few church-owned cemeteries in Connecticut.